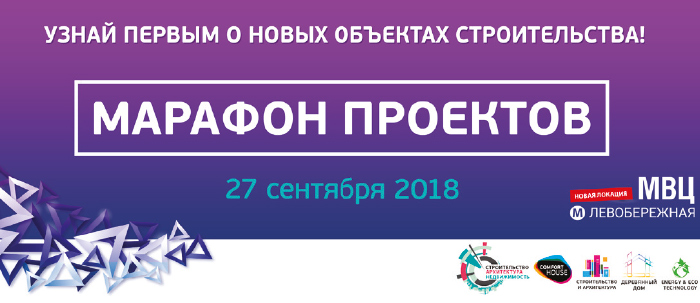 Marathon of Projects, where new building objects will be presented, will start on September 27. This year the participants and listeners will see the projects of new residential complexes, shopping and entertainment centres, social facilities, etc.

The most famous architects and project organizations of Kyiv and Ukraine will demonstrate their new works within the most significant event of the International ExpoForum "Building. Architecture. Real Estate."
We are looking forward to seeing you at the Marathon of Projects in the International Exhibition Centre, located at the address 15 Brovarskyi Avenue on September 27.


Program:
Time

Topic

Speaker

11:00 – 11:05

Opening of Marathon of Projects.

Welcome speech

Volodymyr Husakov, President of National Union of Architects of Ukraine

11:05 – 11:25

Project of the Dnieper embankment reconstruction in Kyiv

Serhii Babushkin, Head of Personal creative architectural workshop Serhii Babushkin

11:25– 11:45

Detailed plan of the territory within the boundaries of Kirovohradska St., Lobanovskyi Ave. and Proektna St.




Construction of pedestrian and cycle crossing between Khreshchatyi park and Volodymyr Hill




Residential house in Kyiv (cottage community Konyk)




The concept of Bessarabskyi Market's renovation




Reconstruction of Volodymyrskyi Market




National Museum "Memorial to Holodomor victims"




Reconstruction of the 1st stage and construction of the 2nd stage at 3 Lavrska St., Kyiv

Andrii Myrhorodskyi, Head of Project Systems, Ltd.

11:45 – 12:05

The topic is to be announced

Andrii Pashenko, Head of creative architectural studio A. Pashenko

12:05– 13:00

Project of reconstruction and enlargement of the residential complex ROG HOUSE #2

Kate Ro, Main architect of UGBN

13:00– 13:20

National Award by the National Union of Architects of Ukraine

Summer school "Theatre of architecture in Svirzh Castle"

Oleksandr Baranovskyi, Secretary of the National Union of Architects of Ukraine

13:20 – 13:40

The topic is to be announced

Viacheslav Pavliukov, Chief architect of AVG Group

13:40 – 14:00

Educational and mentoring complex CLEVER KIDS (Kyiv Oblast)

Main office of the National Power Company "UKRENERGO" (Kyiv)

Multifunctional residential and trade complex with parking area (Kyiv Oblast)

Anna Iskyerdo, Architect, Director of the project company АIMM

14:00 – 14:20

Residential and public complex at 11 Prychalna St., Darnytsia District, Kyiv

Low-rise buildings on Bohatyrska St. north of the Verblyud Gulf in the area of Obolon (Italian quarter)

Office and residential complex with social and public facilities and underground parking at 30 Sholudenko St. in Shevchenkivskyi District of Kyiv

Olesia Berenok, Chief architect of Bud-Proekt Group LLC

14:20– 15:00

Closure of the event. Informal communication