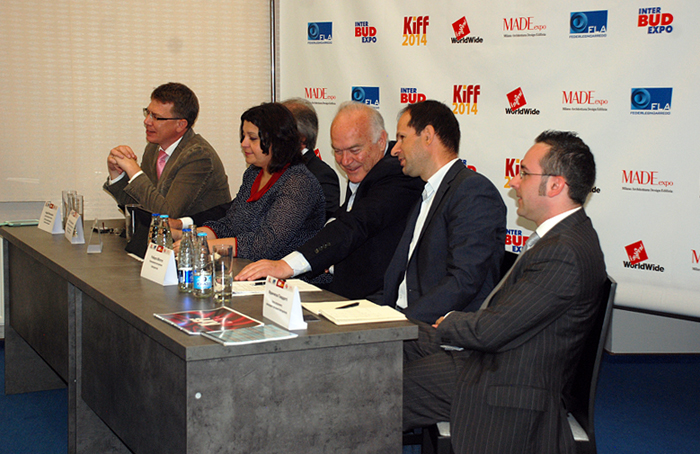 On June 4, 2013 in the conference hall of the hotel «Alfavito» the presentation of exhibition projects of LTD "Kyiv International Contract Fair» - KIFF, Comfort House Climate Design and InterBudExpo was held. The events will take place in autumn 2013 and in March 2014 within the frame of Ukrainian Design Days .
Within the frame of the joint press conference of FederlegnoArredo (FLA, Italian Federation of Wood Industry) and Kyiv International Contract Fair (general organizer of KIFF, Comfort House Climate Design and InterBudExpo) presented a new concept of organization, preparation and carrying out the exhibitions.
"In 2014, our exhibitions will become even more relevant and appear as multi-disciplinary platform of business planning and business development in Ukraine. We guarantee the organization and engaging visitors to our exhibitions, which correspond to the highest world standards of exhibitions in Milan and Moscow. The confirmation of this fact is the cooperation with the federation of FederlegnoArredo, since FLA together with COSMIT are the organizers of such exhibitions as iSaloni Milano, iSaloni Worldwide Moscow and MadeExpo », - told to the guests of the conference the Deputy General Director of KICF Victor Pashinsky.
In 2014, will be presented a completely new format of Ukrainian exhibitions. Autumn Exhibition of Building Comfort House Climate Design 2013 will be held this year in a new format too, with the support and close cooperation with the Federation of FederlegnoArredo.
«Comfort House Climate Design must answer the question of how to optimize the expenses in exploitation of the premises in terms of energy efficiency. The topic of energy efficiency – is a topic number one in the world. At the exhibition MadeExpo we present our revolutionary new developments and projects of holding this event. Comfort House Climate Design uses the experience of the organization and carrying out the best world exhibitions. In 2013, it will be formed on the gideline of KIFF, but with adaptation for the construction market, "- presented his project the director of building exhibitions Andrei Melnikov.
"The upcoming event will be unprecedented for the Ukrainian market, unparalleled by any level of the organization or composition of participants. And we are grateful to our partner FederlegnoArredo for the appreciation of our work and its recognition "- summed up Victor Pashinsky.
LTD "Kyiv International Contract Fair," and its partner – the federation FederlegnoArredo - invite to participate in the exhibitions and events program: KIFF, Comfort House Climate Design and InterBudExpo.